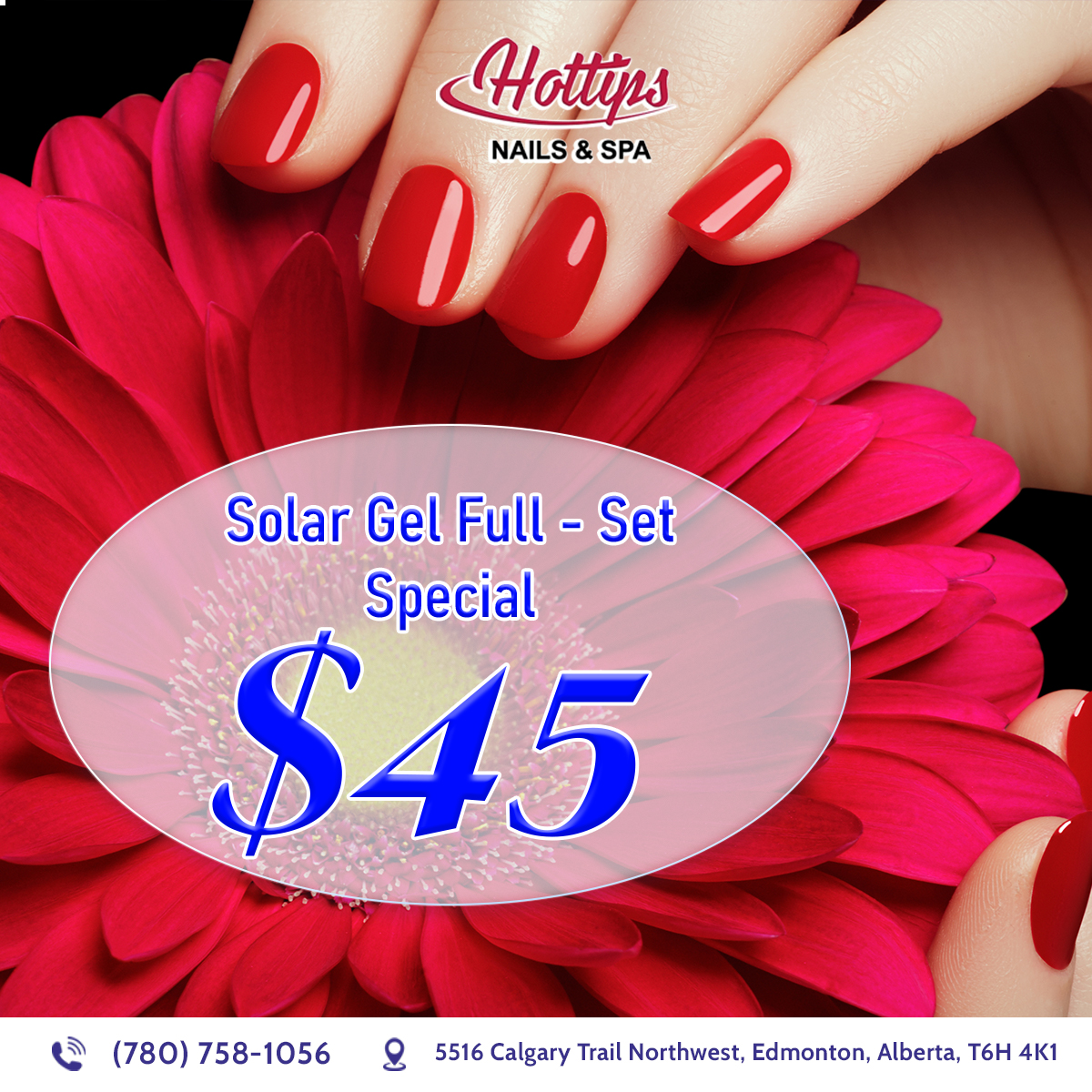 BEST NAIL SALON IN EDMONTON
Hot Tips Nail & Spa is a premier nail salon that offers a wide range of services to help you look and feel your best. Our salon is located in the heart of Edmonton, Alberta T6H 4K1, making it convenient for you to stop by and indulge in some much-needed pampering. Our team of experienced and skilled nail technicians are dedicated to providing you with the highest quality service, using only the best products and techniques.
Various nail service
At Hot Tips Nails, we offer a variety of services to cater to your individual needs. Whether you're looking for a basic manicure or pedicure, or something more elaborate like gel or acrytic extensions, our team has got you covered. We also offer a range of nail art designs, from simple patterns to intricate designs that will make your nails stand out and gorgeous.
Highly qualified staff and modern facilities
At Hottips Nails we understand that continuous learning and staying updated with the latest trends and techniques in the nail industry are essential for the staff at our salon. This allows us to provide high-quality services and meet the evolving needs and preferences of our customers.
Our nail salon is designed to provide a relaxing and comfortable environment for our clients. From the moment you step through our doors, you'll be greeted with a warm and welcoming atmosphere. Our salon is always clean and well-maintained, ensuring that you have a pleasant experience every time you visit.
We take pride in using only the best products in the industry, ensuring that your nails stay healthy and strong. Our team is trained to use the latest techniques and tools to provide you with the best results possible. We also offer a range of nail care products that you can purchase to maintain your nails at home.


Be gorgeous with nail salon Hot Tips
At Hot Tips Nails, we believe that everyone deserves to feel beautiful and confident. That's why we offer affordable prices for all our services, without compromising on quality. We also offer special packages and promotions throughout the year, so be sure to check our website and social media pages for updates.
In addition to our nail services, we also offer waxing and eyelash extension services. Our team is trained to provide these services with the same level of expertise and care as our nail services, ensuring that you leave our salon feeling refreshed, rejuvenated and satisfied.
Overall, Hot Tips Nails is the perfect destination for all your nail and beauty needs. With a team of skilled professionals, a relaxing atmosphere and affordable prices, we're confident that you'll love your experience at our nail salon. So why wait? Book your appointment today and let us help you look and feel your best!
MORE SERVICES & MORE BEST CHOICE
COME IN AND RELAX WHILE THE PROFESSIONAL NAIL
WE HAVE THE BEST THERAPIES

Hot Tips Nails is a first-class Relaxation and Beauty Nails Spa that promotes comfort, beauty, well-being, and health.

MANY CUSTOMERS ARE SATISFIED

We use ONLY the most trusted brands in the beauty industry. Our world-class products, services, and top technologies.

HIGHLY QUALIFIED STAFF

Our staff were trained to follow a proper sanitization protocol that puts our customer's cleanliness as the number one priority.
HOT TIPS NAILS
Address:

5516 Calgary Trail Northwest,Edmonton, Alberta, T6H 4K1

Phone:

780-758-1056

Email:

[email protected]